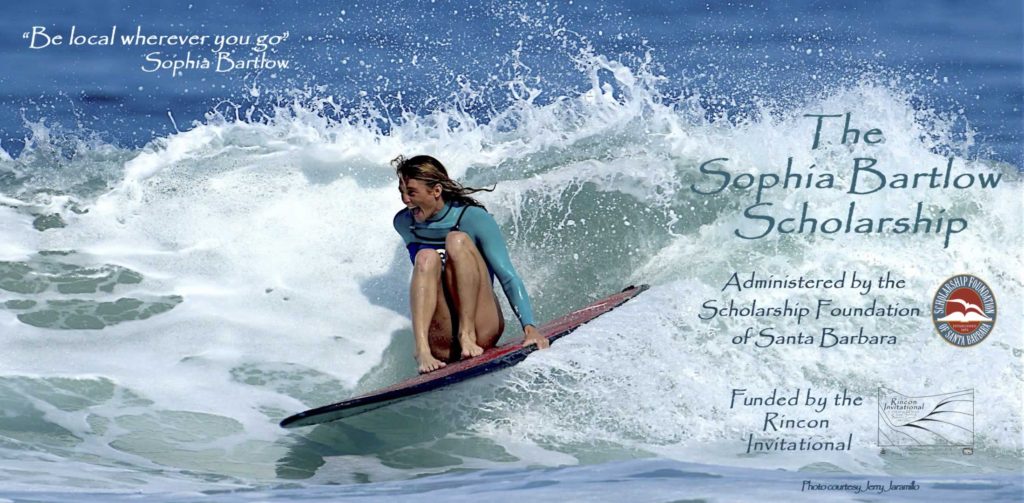 The Sophia Bartlow Memorial Scholarship honors the legacy of one of the most remarkable women in the history of surfing. Established in 2017, the Bartlow Scholarship is awarded annually to an outstanding student with extraordinary public service accomplishments from Santa Barbara County the location of the Rincon Invitational Team Surfing Benefit Event.
Daughter of women's surfing legend Jericho Poppler, Sophia was a extraordinary student-athlete who graduated with honors in Cultural Anthropology from the University of Hawai'i. She was pursuing her Master's degree, and training to ride the largest wave ever tackled by a woman, at the time of her ultimately tragic death at just 26 years old.
Born Sophia Tiar'e Bartlow, Sophia was a 4th generation water woman whose matriarchal great grandmother discarded her Victorian corset to fish, clam and bodysurf her summers from dawn to dusk after moving to California from Boston. Sophia's grandmother, born and raised on the beaches, bays and wetlands of Long Beach, was a junior Olympic diver who loved nothing more than to drag her wooden paddle board across the sand dunes to the breakers in the morning and then sail in the afternoons.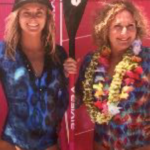 Sophia lived everyday with the joy and nature of the ocean while riding it's ephemeral waves. She surfed challenging waves around the world including Tahiti and the North Shore of Oahu. She was also a champion surfing athlete, winning the 2014 U.S. SUP Surfing Tour in her rookie season following in the footsteps of her mom who had won it in 2006.

It was Sophia's mom who inspired her to carve her own path, and to give back to help sustain the quality of our inner costal environments. In addition to her efforts in support of the Surfrider Foundation (where Jericho was a charter advisor and later member of the Board of Directors), Sophia also was a key figure in the "Kids for Clean Waves" initiatives, the preservation of the Bolsa Chica wetlands, as well as being active in turtle protection in Hawaii.
The Scholarship Foundation of Santa Barbara has worked with the Groundswell Society to award scholarships since 2002 and was the logical choice to administer the Sophia Tiar'e Bartlow Memorial Scholarship. To apply for the Scholarship, visit https://www.sbscholarship.org/apply/