2017 Rincon Invitational
March 18th -19th 2017
2017 Rincon Invitational Schedule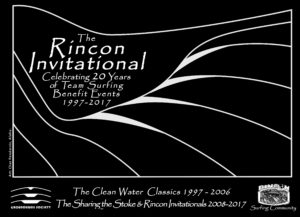 This year we will be directing all net proceeds from the event to the Sophia Bartlow Scholarship. Many of you know of Sophia's tragic death, and given her outstanding reputation and countless efforts to benefit others, we feel it is a fitting tribute to her to now be awarding the scholarship* in her name from this point forward.
This will be the tenth year we have used net proceeds from our team surfing benefit events to award scholarships* to students in the Santa Barbara area as administered by the Scholarship Foundation of Santa Barbara. The Foundation puts out notices of available scholarships, accepts applications, and selects the most deserving student/surfer based on public service, GPA, and other factors.
We will also be pausing the event on Sunday afternoon for a one hour Memorial Vigil for Sophia. Here's the info about the Vigil (thanks to Pierce Flynn):
The Surfrider Foundation Advisory Board will organize a Rincon Memorial Vigil for Sophia Tiare' Bartlow, at 3:00 pm, Sunday, March 19. Sophia Bartlow, age 26, U.S. Women's Surfing and SUP Champion, and much loved daughter of Surfrider Foundation Founding Board of Director, Advisory Board Member, and U.S. and World Women's Surfing Champion, Jericho Poppler Bartlow, was killed in a car crash on the North Shore of Oahu. We will celebrate and honor Sophia's life, with Jericho Poppler Bartlow attending, in a meaningful Memorial Vigil on the Rincon Beach.
* The scholarship was formerly known as the Groundswell Society/Rincon Scholarship.
2017 Rincon Invitational Schedule
2017 Rincon Invitational State Park Rules and Guidelines
Rincon Invitational 2017 Team Rules and Scoring Format